Posted by Lily on 22nd Apr 2014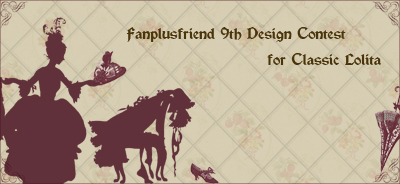 FANPLUSFRIEND CLASSIC LOLITA OUTFIT DESIGN CONTEST
2014 THE 9TH CONTEST


When you have great designs or ideas of Lolita fashion, why not show out here, Fanplusfriend will help you fufill your idea if you win in the contest.

A new round contest of Classic Lolita Outfit design:
2 motif:
A. print series B. solid color series

Designs Collection time: from April 21st / end June 26th
Poll time: from June 30th/ end July 14th

Everyone could vote for only 1 design.
The first to third place winners of each motif will be awarded.
Award:
1st: USD150 (store credit) or final item of the design
2nd: USD100 (store credit)
3th: USD70 (store credit)
All participants will be issued a VIP coupon card.

Contest designs sent to: Lily@fanplusfriend.com
Poll will open at our Facebook page: https://www.facebook.com/fanplusfriend.official

Special Notice before submiting your design:
***The designs may not have been entered into any other competition or publication anywhere except Fanplusfriend Contest. By participating, you agree that we may use your design.
***A series has at least 2 items (for EX: blouse, skirt, hairdress, one piece dress, jumper skirt, jacket.) The difference of 2 motifs are the pattern of fabrics: print or solid. To enter A or B motif, you may need submit a design of an outfit (with print on fabrics or just solid color fabrics).
***For print series, the final design is supposed to be an outfit with print.
***Each participant can submit An outfit design (for motif A, or B).
***No quantity limit of numbers of participants.